Carolina Digital Phones and Accessories Shopping Cart
Yealink T48 Digital Phone with Touch Screen Display
T48G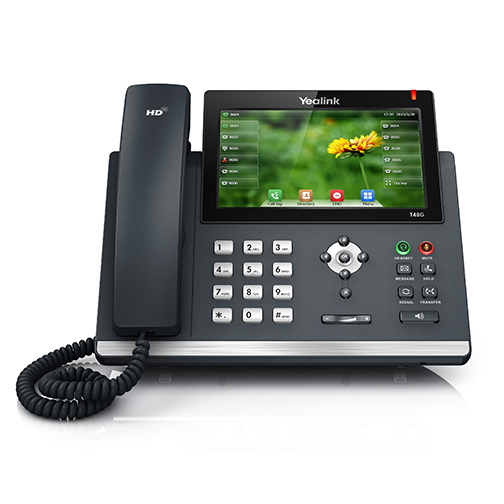 Yealink SIP-T48G 6-line IP Phone
The Yealink SIP-T48G packages 16 VoIP accounts, 29 single touch DSS keys, Optima HD, a PoE Gigabit Ethernet port, a Gigabit Ethernet expansion port, and Bluetooth headset support with the BT40, behind an intuitive 7 inch touch screen. The Yealink SIP-T48G does not come with a power supply, it is PoE out of the box. If you need a Power Supply please purchase the Yealink 5V 2A Power Supply.
Yealink SIP-T48G Summary

Revolutionarily new design
As Yealink 's SIP Phones continue to evolve, the SIP-T48G has been designed by pursuing ease of use with a scratch-resistant 7 inch touch screen, the T4 Series' signature metallic texture, non-slip rubber feet, and ergonomic recessed buttons.

HD Audio
Yealink Optima HD Voice refers to the combination of software and hardware design as well as the implementation of wideband technology to maximize acoustic performance. Coupled with advanced acoustic clarity technology such as full duplex, echo cancellation, and an adaptive jitter buffer, the SIP-T48G creates an amazing face-to-face experience.

A rich visual experience for applications
The SIP-T48G supports vast productivity-enhancing features such as a XML Browser, call forwarding, call transfer, 3-way conferencing, and support for a vast number of UC platforms for a superior UC experience. The 7" 800 x 480-pixel color touch screen with backlight enables rich visual presentation and easier menu navigation.

Advanced connectivity
For network connectivity, the SIP-T48G comes with two Gigabit Ethernet ports, one of them suitable for Power over Ethernet. The SIP- T48G also includes a built-in USB port, which supports Bluetooth headsets with the Yealink BT40.

Highly secure transport and interoperability
The SIP-T48G uses SIP over Transport Layer Security (TLS/SSL) to provide service providers with the latest technology for enhanced network security.
Features
Line Keys - 6 Line
Speaker Phone - Full-duplex hands-free speakerphone with AEC
Ethernet Connectivity - 2X Gigabit LAN Ports (PoE), 1X USB Port(Bluetooth)
Display Type - 7 inch 800 x 400 pixel color touch screen
Headset Support - Bluetooth headset through USB Dongle supported and RJ9
Compatible Platforms - SIP v1 (RFC2543), v2 (RFC3261)
Contents - SIP-T48G IP Phone, Phone Stand, Wall Mount Bracket (Optional), Handset & Handset Cord, Ethernet Cable, Quick Installation Guide & Quick Reference Guide, and CD-ROM.
The Yealink T48G ultra-elegant IP Phone is an innovative high-end T4 series model has been carefully designed to suit the modern needs of busy executive level professionals. The T48G is the first global high-end touchscreen business phone that has been developed specifically to be used in much the same way that smart mobile phones are now commonly used. We believe that you will love the T48G, and that it will become an invaluable asset for a wide international market of business users who have high performance expectations.
The Yealink SIP-T46G does not come with a power supply, it is PoE out of the box.
$245