Carolina Digital Phones and Accessories Shopping Cart
Yealink T46S Ultra-elegant Gigabit IP Phone
T46S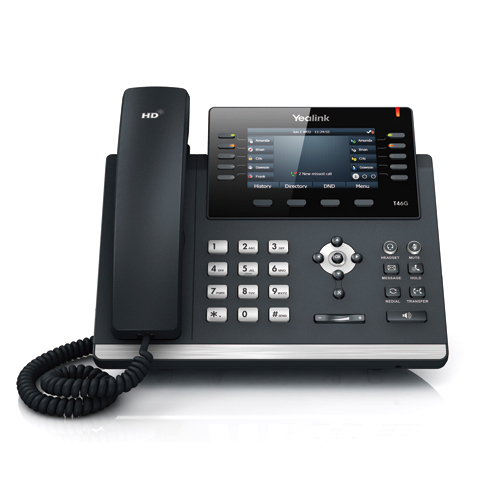 Yealink SIP-T46G Summary
The Yealink SIP-T46S embodies cutting edge VoIP technology and contemporary design. Advanced features of the SIP-T46S include support for gigabit networks, plus USB Bluetooth Dongle support for easy Bluetooth headset use. Enhanced sound quality is delivered by the Optima HD Voice system, which meets TIA 920 certification standards. The T46S is Yealink's unique blend of presentation and performance.
The Yealink SIP-T46S does not come with a power supply, it is PoE out of the box.
Optima HD Audio
With Yealink's Optima HD audio technologies, industry-leading acoustic clarity and newly-added support for Opus to its broad audio codec list, the Yealink T4S guarantees a lifelike collaboration experience.
Remarkable User Experience
The phones are equipped with the latest advanced component and feature an optimized interface for a smartphone-like user experience. Its rich one-touch soft keys allow for customization and more productivity.

Revolutionarily new design
Yealink 's SIP Phones continue to evolve, the T4 Series have been designed by pursuing ease of use in even the tiniest details, these new design include paper label free design, new foot stand allows two positions for the device, non-slip rubber feet, and ergonomic recessed buttons.
Additional Convenience and Flexibility
The new T46S is equipped with a built-in USB port, meaning the entire T4S series supports extended functions such as USB call recording, Bluetooth and Wi-Fi connectivity for more flexibility and functionalities.
HD Audio
Yealink Opima HD Voice refers to the combination of software and hardware design as well as the implementation of wideband technology to maximizes the acoustic performance. Coupled with advanced acoustic clarity technology such as full duplex, echo cancellation, adaptive jitter buffer etc. Creating an amazing face-to-face live experience.
A rich visual experience for applications
SIP-T46G Supports vast productivity-enhancing feature such as XML Browser, SCA, BLF List, call forward, call transfer, 3-way conferencing, the 4.3 inch backlit color display enables rich visual presentation and easier navigation of the menu. Three pages of 10 flexible buttons are shown on the display can be programmed up to 27 various features.
Advanced connectivity and expandability
For network connectivity, the SIP-T46G comes with two Gigabit Ethernet ports, one of them suitable for Power over Ethernet. Supports a variety device connections, including EHS headset and USB. User enable Bluetooth headset through USB Dongle. Supports up to 6 Expansion Module, adding up to 240 additional buttons with a screen based LCD display and LED system.
Highly secure transport and interoperability
The Communicator uses SIP over Transport Layer Security (TLS/SSL) to provide service providers the latest technology for enhanced network security. The range is certified compatible with 3CX, Asterisk and Broadsoft Broadworks, ensuring excellent compatibility with leading soft switch suppliers.
$185
In stock
Brand:Yealink
UPC:6938818301436
Provisioning

Pre-provisioning phone before shippping (6.5)

Power Supply

External Power Supply YEA-PS5V1200US (10)