Carolina Digital Phones and Accessories Shopping Cart
Yealink T42S IP Desk Phone
T42S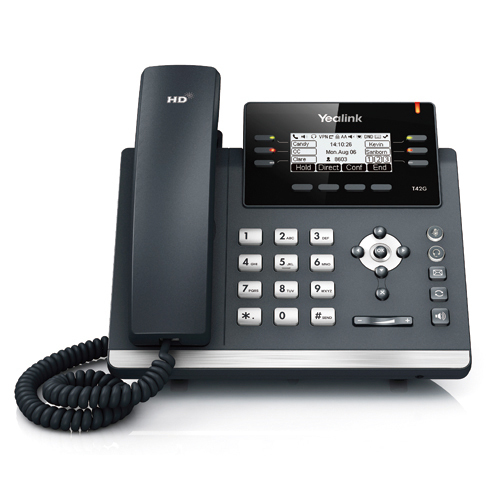 This item does not include an external power supply and requires a POE connection for power
Yealink SIP-T42S Summary
Standard and Affordable SIP Phone for Business
The SIP-T42S is an entry level and feature-rich sip phone for business. The 12-Line IP Phone has been designed by pursuing ease of use in even the tiniest details. Delivering a superb sound quality as well as rich visual experience. Supports seamless migration to GigE-based network infrastructure. With programmable Keys, the IP Phone supports vast productivity-enhancing features. Using standard encryption protocols to perform highly secure remote provisioning and software upgrades.
Revolutionary new design
Yealink's SIP Phones continue to evolve, the T4X Series have been designed by pursuing ease of use in even the tiniest details, these new design include paper label free design, new foot stand allows two positions for the device, non-slip rubber feet, ergonomic recessed buttons etc.
HD Audio
Yealink Optima HD Voice refers to the combination of software and hardware design as well as the implementation of wideband technology to maximizes the acoustic performance. Coupled with advanced acoustic clarity technology such as full duplex, echo cancellation, Adaptive jitter buffer etc. Creating an amazing face-to-face live experience.

Optima HD Audio
With Yealink's Optima HD audio technologies, industry-leading acoustic clarity and newly-added support for Opus to its broad audio codec list, the Yealink T4S guarantees a lifelike collaboration experience.
Remarkable User Experience
The phones are equipped with the latest advanced component and feature an optimized interface for a smartphone-like user experience. Its rich one-touch soft keys allow for customization and more productivity.
Additional Convenience and Flexibility
The new T41S and T42S are equipped with a built-in USB port, meaning the entire T4S series supports extended functions such as USB call recording, Bluetooth and Wi-Fi connectivity for more flexibility and functionalities.

Enhanced Call Management
The SIP-T42S supports vast productivity-enhancing feature such as XML Browser, SCA, BLF List, call forward, call transfer, 3-way conference.Three pages of 6 flexible buttons are shown on the display can be programmed up to 15 various features. Support Yealink YHS32, With EHS36 user can control phone through wireless headset.
Efficient Installation and Provisioning
Dual-port Gigabit Ethernet is designed for flexible deployment options and lower cabling expenses. Integrated IEEE 802.3af Power-over-Ethernet allows easy deployment with centralized powering and backup.The SIP-T42S support the FTP, TFTP, HTTP, and HTTPS protocols for file provisioning and are configured by default to use Trivial File Transfer Protocol (TFTP), supports AES encrypted XML configuration file.
Highly secure transport and interoperability
The Communicator uses SIP over Transport Layer Security (TLS/SSL) to provide service providers the latest technology for enhanced network security. The range is certified compatible with 3CX, Asterisk and Broadsoft Broadworks, ensuring excellent compatibility with leading soft switch suppliers. Broadworks, ensuring excellent compatibility with leading soft switch suppliers.
$135
In stock
Brand:Yealink
UPC:6938818300750
Provisioning

Pre-provisioning phone before shippping (6.5)