Carolina Digital Phones and Accessories Shopping Cart
Yealink T40G IP Desk Phone
T40G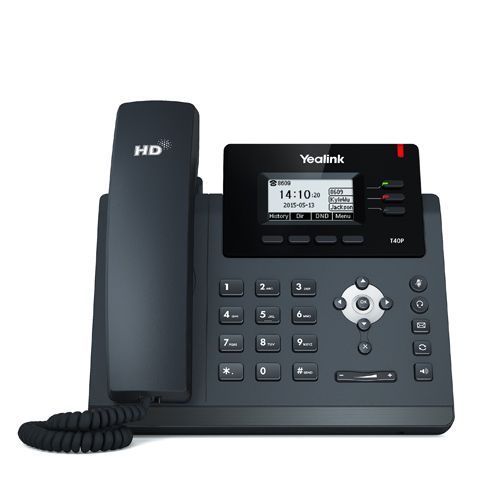 This item does not include an external power supply and requires a POE connection for power.
Yealink SIP-T40G Summary
The SIP-T40G is a feature-rich sip phone for business. The 3-Line IP Phone has been designed by pursuing ease of use in even the tiniest details. Delivering a superb sound quality as well as rich visual experience. With programmable Keys, the IP Phone supports vast productivity-enhancing features. Using standard encryption protocols to perform highly secure remote provisioning and software upgrades
The SIP-T40G is Yealink's latest T4 series SIP business phone. Optimised for ease of use and delivering superb sound quality, the SIP-T40G's revolutionary design features 18 on-screen programmable buttons for fast, intuitive call handling.
The SIP-T40G, a member of Yealink's new generation T4 series, is a feature-rich SIP phone designed for today's business user. This 3-Line IP phone shares the T4 series' elegant, ergonomic design which ensure easy, accurate use of all operations on the handset, and Yealink's Optima Audio technology which deliver superb sound quality. The 2.3" inch 132x64 graphical LCD backlit screen provides a rich visual experience.
The SIP-T40G supports a wide productivity-enhancing feature set that includes SCA, BLF List, call forward, call transfer and 3-way conference calls. Yealink's YHS32 and EHS36 accessories are supported so the phone can be controlled through a wireless headset.
A prominently displayed 'message waiting' LED and six line keys, each with an associated LED indicator provide 'at a glance' information to phone users.
Efficient installation and provisioning is ensured. Integrated IEEE 802.3af Power over Ethernet allows easy deployment with centralised powering and backup. The SIP-T40P supports FTP, TFTP, HTTP, and HTTPS protocols for file provisioning, and is configured by default to use Trivial File Transfer Protocol (TFTP). The phone supports AES encrypted XML configuration file. Security is further enhanced via the support of SIP over Transport Layer Security (TLS/SSL), giving Service Providers the latest technology for enhanced network security.
Yealink SIP-T40P Core Features
Line Keys - 3 line keys with LED
Ethernet Connectivity - 2 x RJ45 10/100/1000M Ethernet ports
PoE - Power over Ethernet (IEEE 802.3af), Class 2
Display Type - 2.3" 132x64-pixel graphical LCD with backlight
Headset Support - Headset, EHS support
Compatible Platforms - SIP v1 (RFC2543), v2 (RFC3261)
Warranty - 1 Year
$95
In stock
Brand:Yealink
UPC:6938818301269
Provisioning

Pre-provisioning phone before shippping (6.5)