Leadership and Senior Management Team
Beth Smith, President
Beth serves as President for Carolina Digital Phone, Inc. She has a BS in Accounting from Meredith College in Raleigh, NC, and earned CPA status before joining  Ernst & Young in 1988. After working in audit at Ernst & Young, Beth worked as an Internal Auditor with Cone Mills Corporation. Working with a small staff, Beth is very hands-on, overseeing virtually every function, including product development, finance, human resources, marketing and production.
With an extensive background in accounting she approves the annual budget, monitors financial reports such as balance sheets, cash flow statements, profit-and-loss statements and departmental budgets in addition to reviewing year-end results, tax filings and annual reports.  Beth is responsible for long-term vision for this rapidly growing enterprise in addition to daily monitoring of the financial growth needs of Carolina Digital that include accounting and financial planning of Carolinanet and Carolina Digital Phone.
Nicky Smith, Founder and CEO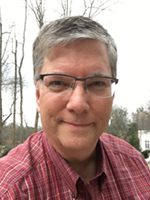 Nicky Smith serves as Chief Executive Officer for Carolina Digital. Nicky's experience in telecom applications and solving problems for business owners has proven to be a most valuable asset to business owners looking for more effective and efficient methods to maintain low cost telecommunications and enabling features only available to larger Fortune 500 companies using hosted telecom applications. His knowledge of business applications and integration to these advanced features allows business owners to compete with larger companies at a fraction of the monthly cost.
With more than 35 years as a senior level executive for privately owned companies, Nicky has extensive experience with business and partnership development. He has strong leadership and communications skills, and is experienced in all aspects of technology, including data/voice communications, computer applications, and engineering.
Nicky can be reached email nicky.smith@digitalphone.io.
Gary Tomlin, Vice President Sales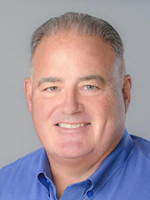 Gary brings more than 28 years of telecom sales management and leadership to DigitalPhone.io. Starting with MCI Communications on 1988 Gary quickly found success as the telecom industry changed over the past 28+ years. In 1991 Gary became the Branch Manager for LDS, Inc and later Sprint responsible for recruiting, hiring, and training of direct sales representatives and commissioned sales agents and oversaw the establishment of LDS's dealer program and signed one of LCI's most successful dealers.
As District Director for BTI / Deltacom form more than 13 years (1993-2006) Gary opened both the Roanoke VA and Greensboro NC sales offices where Gary was a diligent leader with an instinctive Coaching/Educational style. He developed numerous sales agents into consistent producers and graduated several on into eventual leadership roles themselves. Gary is constantly seeking to improve efficiencies and anxious to embrace and capitalize on emerging technologies. In 2008 Gary served for two years as Windstream's District Sales Director were he successfully helped sales agents and customers see the value of hosted telecom services.
Today Gary Tomlin serves as Vice President of Sales for Carolina Digital doing business as DigitalPhone.io. Gary is an experienced technology solutions consultant and team leader. He has a B.S. degree from James Madison University and an M.S. degree from Virginia Tech. Married to Wenda Tomlin since 1992, they have two children, Banks and Ashton, who are currently enrolled at UNC Charlotte and UNC Chapel Hill, respectively.
Gary can be reached at (336) 544-4000 ext 108 or contact Gary by email.
Steve Worrell, CPA, CFO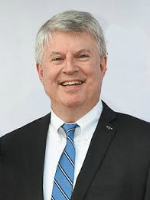 Steve Worrell serves as the Chief Financial Officer for Carolina Digital. Since 1983, Steve's professional career has spanned several industries across two Fortune 500 companies, three closely held corporations, several successful startups, and in his own professional practice.
He has consulted with various companies on accounting, technology and management projects ranging from strategic planning to full system implementations. With over 12 years of experience as a Corporate Controller & Finance Officer, he has an extensive background in overseeing the administrative departments within the corporate environment. As the CFO & Eastern US Controller for Holland Chemical International, Steve managed the financial performance, budget planning, technology development and information system infrastructure that supported 14 locations, 325 employees and $225 million of annual sales.
Prior to his corporate controller experience, he was a financial analyst for Georgia-Pacific Corporation and International Paper. He has served on the faculty at the University of North Carolina at Greensboro and has taught accounting at the Bryan School of Business and Economics. He holds a Bachelor of Science degree in Business Administration from the University of North Carolina at Chapel Hill where he was also a varsity letterman on the Tar Heel soccer team. He has a Master of Business Administration degree (MBA) from Campbell University's Lundy-Fetterman School of Business and is a Certified Public Accountant (CPA).
Steve can be reached at (336) 544-4000 ext 120 or contact Steve by email.
Brant Yandell, Partner Manager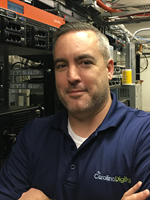 Brant serves as our Partner Manager and a Sales Engineer. He served honorably in the United States Marine Corps in the early 1990s and began his career in Information Technologies in 1996 building workstations and servers for a network integrator. Brant quickly branched out into network administration and database/web development working his way up to a position as a Systems Engineer with at&t in Greensboro, NC where he managed the test environment for AT&T's global HR network. He changed gears in 2005 and shifted into the telecommunications world working with such companies as Time Warner Cable, DIRECTV and AT&T. There, he honed his customer service skills and discovered his passion for being a customer advocate. He brings a wealth of knowledge in VoIP integration, cable infrastructure and product deployment to Carolina Digital working closely with our Partners and customers to insure the right solution is implemented whether you need one phone or one thousand. Brant joined the Carolina Digital team in August of 2015. He also fills support roles on the help desk as well as project management for long duration projects.
Brant can be reach by calling (336) 544-4000 ext 101 or contact Brant by email.
William Brooks, Partner Manager
William serves as our Major Account Manager for Carolina Digital Phone and this rapidly growing enterprise. William having a number of years experience in listening to customer needs and his unique ability to present technology solutions helps Carolina Digital solve problems with telecommunications and unified messaging services. Working closely with the product managers, William develops strategies that are important for increasing customer satisfaction. Being very organized in keeping track of details, William works directly with our major accounts which include enterprise customers as well as developing relationships with our strong education and government accounts.
William can be reach by calling (336) 544-4000 ext 106 or contact William by email.
Chris Norris, Senior VoIP Engineer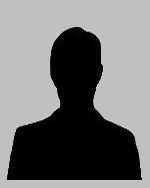 Chris Norris serves as Senior VoIP Engineer for Carolina Digital Phone. Chris is rightfully proud of his accomplishments and after attending specialized training in 2012, Chris earned an almost perfect score on the dCAP (Digium Certified Asterisk Professional) test. Chris deployed complex Asterisk-based servers at Carolina Digital Phone and then achieved additional certification, dSSE (Digium Switchvox Support Engineer).
Chris attended UNCG and studied computer science. Chris has been a developer with Carolinanet for 13 years. He works with LAMP installations, PostgreSQL and MSSQL. Recently, he has developed and maintained Carolina Digital Phone VoIP servers and earned the Digium-Certified Asterisk Professional (dCAP) certification.
Chris' primary responsibility for VoIP applications servers in addition to custom programming for client's applications.
Chris can be reached by calling (336) 544-4000 ext 103 or contact Chris by email.
Steven Hinkle, Support Center Manager
Steven Hinkle serves as Director of Operations for Carolinanet and Carolina Digital Phone since January 2005. He comes to our company with a background rich in unparalleled quality customer service. His career started in high school as a junior system administrator for a Unix-like operating system. He studied Computer Science at SUNY Buffalo where he completed his BS degree. After college he went to work at the University of Illinois at Champaign-Urbana where he spent several years as a Systems and Network Administrator. During this time, he grew his skills in customer relations. Later Steven affiliated with Berkeley Software Design, Inc., which led him to a global customer service role and he was promoted to Director of Technical Support. He transitioned to Wind River Systems in the Spring of 2001 when Wind River bought most of the assets of BSDi.
Steven has primary responsibility for the Carolinanet Data Center and with his leadership has become the primary technical and customer support team member for Carolina Digital Phone.
Steven can be reach by calling (336) 544-4000 ext 102 or contact Steven by email.
Mitchell Smith, New Customer Onboarding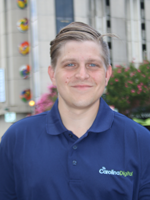 Mitchell serves as Manager of new customer deployment and scheduling of new customer on-boarding with our feature rich hosted VoIP services. Mitchell Smith, joined the Carolina Digital team after spending more than two years with AT&T. Prior to AT&T Mitchell worked for CitiBank as a customer representative and trainer to provide customers with consistent, reliable, and effective project management to ensure all major and minor projects are completed on time, and in scope. During his time at Citi-Bank  in 2013 he was awarded the Quality of Excellence Award. During Mitchell's spare time he received the Silver Presidential Volunteer Service Award for over 190 hours of volunteer service (March of Dimes, Habitat for Humanity, Greensboro Youth Council, Citi Bank Diversity Council, and The Center for Visual Arts community outreach). At Carolina Digital he coordinates schedules with new customer installs, communicated with new customers with deployment plans, troubleshooting and diagnosing repairs and implementing upgrades.
Mitchell can be reached by calling (336) 544-4000 ext 107 or contact Mitchell by email.
Rob Mitchell, Senior Support Engineer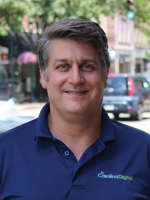 Rob Mitchell, Marine Corps veteran, currently serves as Field Manager and Trainer for Carolina Digital. Nearing twenty years IT experience, Rob previously was a deployment manager for NetMCR, working with wireless and broadband products. Later, under contract with Sprint, he managed local DSL implementation and travelled extensively to train Sprint technicians with the Sprint School of Excellence. In recent years, Rob established a large Asterisk based call center for a Greensboro company, and helped provide management of daily operations.
Rob, in addition to his years of diverse IT experience, deeply believes in the importance of providing excellent customer service. A trait ingrained through many years of working with the public, Rob strives to maintain it continually. He interacts daily with Carolina Digital clients to insure the best service possible is given.
Rob Mitchell resides in Greensboro, NC with his wife of twenty years and his two young children. He is active in his community with Cub Scouts, his local church, and Masonic Lodge. In his spare time, he enjoys classic cars, family camping and lake activities.
Rob can be reached by calling (336) 544-4000 ext 104 or contact Rob by email.
Thomas M. Lynch
Telecom Legal Counsel
Thomas M. Lynch represents Carolina Digital Phone on legal matters regarding telecom regulations and related issues. Mr. Lynch graduated from Georgetown University Law Center in Washington, DC in 1993. Mr. Lynch graduated magna cum laude from Loyola Marymount University in Los Angeles, California, with a BS in Accounting. Mr. Lynch received the American Accounting Association's Merit Scholarship and was granted the University President's Citation for Leadership at LMU.

Tom Kobrin Attorney at Law
Tom Kobrin, represents Carolina Digital Phone on legal matters regarding contracts and negotiations in addition to his focus on providing legal services for litigation when needed from his local offices in downtown Greensboro, NC. His specialities are Civil Litigation, Employment Law and Contract Law. Mr Kobrin earned is BS from the University of Pennsylvania in 1986, the completed his Masters at the University of North Carolina in Chapel Hill in 1988 where he continued his Law Degree with honors from the University of North Carolina in Chapel Hill in 1992. He was admitted in 1992, North Carolina, U.S. District Court, Western, Middle and Eastern Districts of North Carolina and U.S. Court of Appeals, Fourth Circuit.
Chandler & Richter, PA, CPAs, Mark W. Chandler, CPA (North Carolina Certificate Number 23412) and his partner Terry M. Richter, CPA provide tax and consulting services to our company. Mark is a 1982 graduate of Appalachian State University and is a Kernersville native. He was employed in the transportation industry prior to joining the firm in 1991.  Mark has over 25 years of experience in the corporate accounting, tax and accounting services. Terry Richter, a 1992 graduate of Kean University of NJ and prior to joining the firm has more than 18 years senior audit, tax accounting and finance experience. The firm's professionals are members of both the AICPA and the NCACPA professional associations.