Best Value Business VoIP Phone Provider
Local Service and Support, Most Reliable, Best Value, and Easy Setup

Save Money: Save up to 40% on your Business Phone Service over traditional services and get great local service.
Rich Features: Nothing to add. Comes with over 150 calling features including auto-attendant, call center applications, and call distribution options.
iPhone and Android Mobility: Answer and make calls from your Smartphone when away from your desk. Never miss a call.
Reliable Service from an Established Provider: Your hosted VoIP is backed by multiple servers with geo-redundancy failover in our state-of-the-art data centers.
No IT or Telecom Professionals needed: We handle your complex management such as moves, adds, and changes, so you can do what you do best- run your business!
Locally owned: Committed to the local community and economy so your telephone dollars spent stay in our state.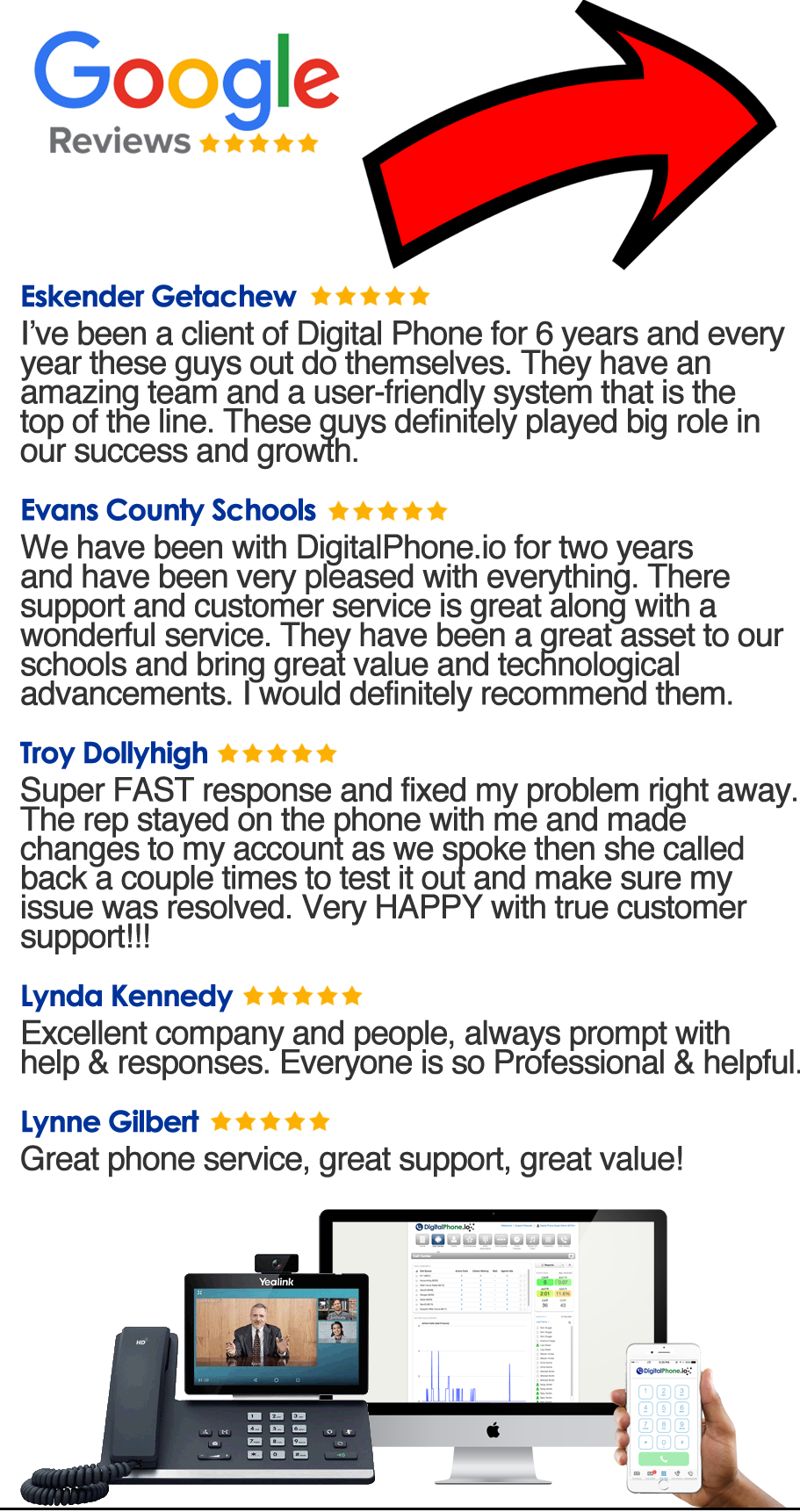 Maybe it time to look at your local telephone bill. You could be saving as much as 60% a month on telephone services and get a feature rich cloud based telephone service. Switching is hassle free and can be done in just a few days. All you need to do is call us at (336) 544-4000 and press option 1 for a fast pass to one of our sales engineers that will walk you through the process and give you a professional quote and our 100% money back guarantee. Mention you saw this page and code word BVOIP1 and get $100 off your account setup, number porting and account activation
Our national footprint, geo-redundant cloud-based service makes your business easier and more effective to manage. We replace your existing and possibly outdated on premise phone equipment with a feature rich cloud-based PBX, which means your desk and smart phones work together and can be managed from your browser and mobile app. Cloud phone systems make it easier for your customers to contact your teams with call auto-attendants, call queues and groups and allowing team members to work from remote locations.
Mobility is key
What if you weren't tied to a physical office location? You could work from home or on the road, yet your clients wouldn't know the difference. You can downsize or eliminate your office saving you thousands on your phone service.
Visibility is power
Keep an eye on your business at all times. See calls as they come in and make sure they are being handled properly. You can even monitor employees to make sure sales aren't slipping through the cracks. Never miss a sales opportunity knocking.
Better coverage
Route your calls based on business opportunities or employee hours. Why sit by the phone when you can be out closing deals? Setup a ring group with remote employees and forward unanswered calls to cell phones so you never skip a beat.
Cloud-based
Our solution was built on a cloud-based architecture for running mission-critical systems and applications. Your hosted PBX leverages this innovative platform giving it the highest level of reliability and scalability.
Cloud-based Telephone service offers:
Keep your local number
Get Local Numbers Nationwide
Nationwide Geo-Redundancy Data Centers
Unlimited calling in the US and Canada
Call Park/Pickup and Hold Options
Custom Music on Hold by User
Customizable Calling Features
Auto Attendant for every User
Live Call Forwarding and Transfer
Advanced Voicemail to email
Call Queue and Automatic Call Distribution
Easy Web Portal Management
Local US based Customer Service
SmartPhone client available for free


Hosted Telephone services for unlimited usage, advanced user is $20/per month* with all the features a Fortune 500 company would have.
Cloud based hosted VoIP phone system for your small business that's affordably priced as low as $3.50/per user* with unlimited advanced calling features.
Transform how you communicate with Business VoIP. Simplify your communications platform and prepare your business for the future. Voice over IP (VoIP) integrates voice services and data into a single network that expands the possibilities for communication while creating a path for growth. VoIP offers traditional voice services to keep your business communicating, plus access to advanced applications that potentially help your staff to be more productive and drive possible cost savings.
Business VoIP services from DigitalPhone.io will help integrate emerging technologies such as cloud computing and unified communications – giving you cost efficiency, enhanced collaboration, and scalability.
You can easily reach your employees anywhere with a fully hosted, network-based VoIP service that combines a full range of advanced features, applications and management tools over your existing internet connection, helping to reduce your infrastructure and maintenance concerns. A VoIP solution for small businesses and satellite locations that provides the benefits of advanced voice and data technology without the complexity of managing it. This solution enables voice and data services to work over a single network connection and device.
* Per user Pricing is based on number of numbers and term commitment. Minimum user seats required for this pricing. Contact us for a personalized price quote that meets your business needs and budget.
What are you waiting for? Call us. (336) 544-4000.